I write to welcome the Film of the Month Clubbers to the relatively short film I've chosen for this, the shortest month of February.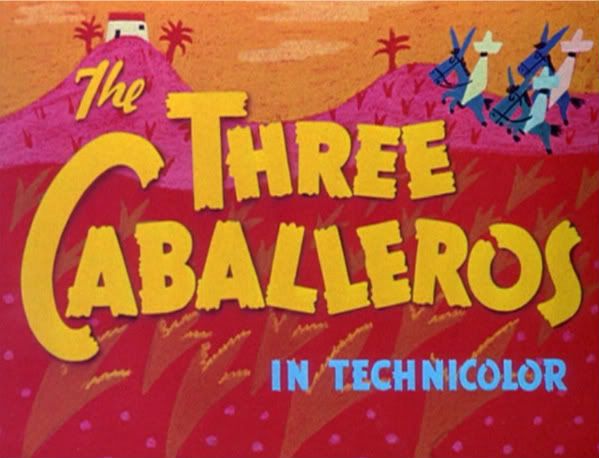 The Three Caballeros
is the second of two films that Walt Disney developed as part of a brief producing partnership with the Office of the Coordinator of Inter-American Affairs (OCIAA), led by Nelson Rockefeller. Put simply, as part of the U.S. State Department between 1940 and 1944, the OCIAA sought to utilize U.S. cultural production (film, radio, and live performance as well as journalism in all media) to cultivate good will
among the "other American republics" in the Western Hemisphere and, in so doing, to counter any potential inroads made by Italian or German filmmakers. With the financial and diplomatic support of the OCIAA and the U.S. State Department, Walt Disney and several of his key directors and animators traveled to selected South and Central American countries (including Bolivia, Peru, Chile, Argentina and Brazil) in 1941. The purpose of this trip was to develop material for a projected series of films aimed toward cultivating pan-American affinities and promoting cooperation against European propagandistic incursions. The first resulting film -- the 42-minute featurette
Saludos Amigos
(1942/3) -- intersperses four animated shorts with documentary footage gathered on that trip. With additional financial support from OCIAA, Disney's team took another trip in 1943, this time to Mexico. Drawing upon material from both trips, Disney developed
The Three Caballeros
(1944/5) -- a more thoroughly animated feature, which folds the live-action footage into the animated spectacle following a narrative throughline featuring Disney's popular Donald Duck character as he meets two new characters, a Brazilian parrot José Carioca (originally introduced in
Saludos Amigos
and a Mexican rooster Panchito (making his character debut in this film). Released in 1944/5,
The Three Caballeros
arrived to theatres just as the OCIAA's operation as a semi-autonomous division within the U.S. State Department was ending and also as the popularity of such "Good Neighbor" era cultural projects was on the wane. Perhaps as a result, as film historian Eric Smoodin has noted, the Disney company promoted the film's blend of live-action and animation to an adult audience by emphasizing the array of Latin American beauties featured in the film and underscoring the film's extensive use of popular "Latin" musical styles. Though still listed commercially as among the "Disney Classics," neither
Saludos Amigos
nor
The Three Caballeros
have really entered the Disney canon, nor have the array of animated characters introduced within these films become especially iconic.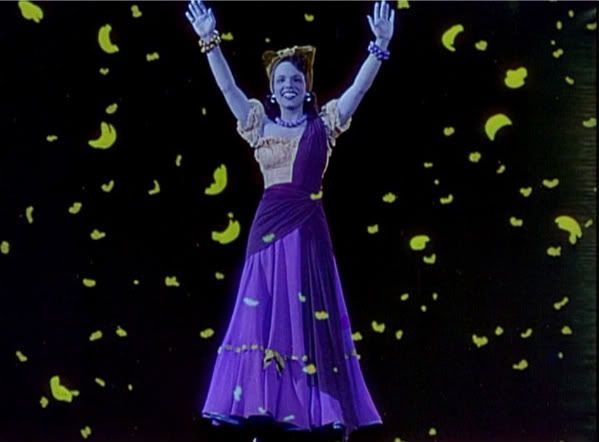 In the last several decades, a handful of scholars (in cultural studies as well as cinema studies) have found the films interesting as documents of this peculiar historical moment of explicit cooperation between the U.S. culture industry and the U.S. federal government. Perhaps as a result, much of the existing scholarship addressing Disney's "Good Neighbor" films emphasize them as "ideological objects," texts whose cultural interest derives from their "artefactual" status. And, while I find such "ideological" explications of these films to be intellectually enlightening and often quite entertaining, I yet wonder whether these films -- especially 1945's
The Three Caballeros
-- hold additional interest as "cinematic artefacts." What might yet be said about these films as films?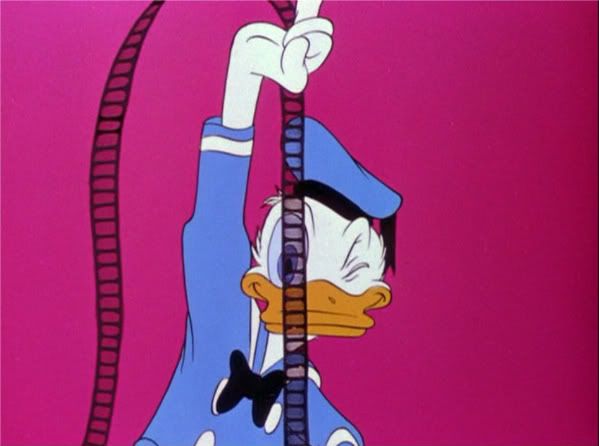 So, Film of the Month Clubbers, what do you see when you look at Walt Disney's
The Three Caballeros
? What do you think we're looking at when we're taking in the spectacular incoherences, absurdities and phantasmagorias of this film? Put another way, what the f*** do you think is going on in this curiosity from the Disney vault?